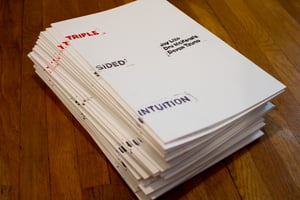 $

40.00
"Three Sided Intuition"
An art book project by Jay Lizo, Dru McKenzie and Devon Tsuno
Edition of 30
30 pages, 16 x 11 inch risograph book. Perfect bound and printed with purple, red, orange, teal and burgundy soy ink on 70lb Husky non-coated paper by Concrete Walls Press. Each book is numbered and signed by all three artists.
This book was created in conjunction with Summercamp's ProjectProject exhibition "Thaumatrope" at First Street Gallery Art Center.
First Street Gallery Art Center is an exhibition resource and arts management center for adults with developmental disabilities in Claremont, California. It is a unique art center of the Tierra del Sol Foundation founded on the proposition that human potential for creativity and artistic expression is not limited by physical or intellectual challenges. Through cultivation of artistic expression, people with significant challenges can develop creatively and make important contributions to the cultural and economic life of their communities.
Concrete Walls will donate #1-10 print editions to First Street Gallery Art Center to sell with all proceeds going directly to their artists, studio and gallery programming.
http://tierradelsol.org/programs/1st-street-gallery-art-center/
http://cargocollective.com/concretewallsprojects/